Basic understanding of Home Plumbing System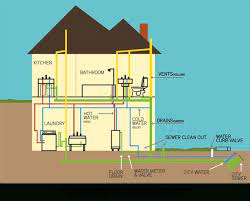 In our daily life, a plumbing system is a basic necessity. We never even think of it or are never aware of its presence. We use hot water showers, cold water, flushing toilets etc. these presence and importance in our life is appreciable. Here we will understand the system of home plumbing, which will be beneficial for basic knowledge of the same. 
Home plumbing system:

The home plumbing system is a very complex network of drain pipes, vent pipes, supply pipes etc. the home plumbing is very costly and complex to understand, you should know the basic solution of the issues that occur generally. To install the best plumbing system in your house you can consider

powerhouse plumbing

. 

Water supply system:

this system flows the municipal water from the house streets to the house's toilet, kitchen, heater, showers etc. all the equipment used in water supply are valves, fittings, service and pipes. Which are commonly made of galvanized iron, copper and plastic. 

DWV (Drain-Waste-Vent) system:

this system is less known to the owners but the main important part of the system is done by this only. It carries all the waste water from bathtubs, sinks, flushes, toilets, dishwashers to the public sewer or septic tanks. The pipes of DWV are usually hidden in the walls which are generally not seen. 

Plumbing system of Kitchen:

The kitchen plumbing system is a very simple system. It generally has a cool and hot water line for the sink. And a gas supply pipe is also included. The kitchen system also has hook-ups for ice maker, disposer, instant hot water attached to the sink's plumbing. 

System of Bathroom Plumbing:

bathroom plumbing is all about sink, wash basin, toilets, bathtubs and showers. The water plumbing system should be very well organised for waste water, efficiency and leakage less manners. Bathroom plumbing system requires two plumbing system to handle its needs, which are: 
1.Water supply: for supply of the hot /cold water of the municipality.
2. Drain Waste Vent: to manage the waste water from showers, toilets to the septic system.
These are the basic inhouse plumbing systems. Plumbing is very wide and complex to understand.